What is the heart of Women's Ministry at Faith Baptist Church?
We are a unique group of women here at Faith. We have been brought here by God from all over the world. We recognize that for most of us, our time here is short. Therefore, we invite you to glorify God by walking intimately with Him though Bible study, prayer, fellowship, and service.
As a community of women, both young and old, we desire to be molded into the image of Christ by the renewing of our minds so that when the Lord sends us to a new mission field, we will be ready to walk in the good works that He has prepared for us.
"Do not call to mind the former things, or ponder things of the past. Behold, I will do something new." Isaiah 43:18-19
Winter/Spring Discipleship Studies
What better way to navigate these troubled times than by staying grounded in God's Word? To provide women with the opportunity for Bible study and community, the FBC Women's Ministry will be offering the following discipleship studies.
The Promised One: Seeing Jesus in Genesis by Nancy Guthrie
This first volume in the Seeing Jesus in the Old Testament Bible study series guides women through a Christ-centered study of Genesis.
The Promised One provides a fresh look at the book of Genesis, leading women in discovering how its stories, symbols, people, and promises point to Christ. Over ten weeks of study, participants will see Christ as the agent of creation, the offspring who will crush the head of the serpent, the ark of salvation, the source of the righteousness credited to Abraham, the substitutionary sacrifice provided by God, the Savior to whom the whole world must come for life, and much more.
Each weekly lesson includes questions for personal study, a contemporary teaching chapter that emphasizes how the passage fits into the bigger story of redemptive history, a brief section on how the passage uniquely points to what is yet to come at the consummation of Christ's kingdom, and a leader's guide for group discussion. A ten-session DVD companion set is also available.
This class meets:
– Tuesdays 9:30-11:00 a.m. in Apt 2
– Wednesdays 6:00-7:30 p.m. in Apt 2
– Thursdays 6:00-7:30 p.m. in Apt 2 or Zoom
Each participant is responsible for purchasing their own book, so make sure to order in time if you plan to join any of the studies.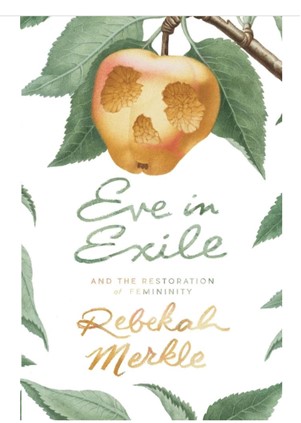 Eve in Exile by Rebekah Merkle
The swooning Victorian ladies and the 1950s housewives genuinely needed to be liberated. That much is indisputable. So, First-Wave feminists held rallies for women's suffrage. Second-Wave feminists marched for Prohibition, jobs, and abortion. Today, Third-Wave feminists stand firmly for nobody's quite sure what. But modern women — who use psychotherapeutic antidepressants at a rate never before seen in history — need liberating now more than ever. The truth is, feminists don't know what liberation is. They have led us into a very boring dead end. Eve in Exile sets aside all stereotypes of mid-century housewives, of China-doll femininity, of Victorians fainting, of women not allowed to think for themselves or talk to the men about anything interesting or important. Once those fictionalized stereotypes are out of the way — whether they're things that make you gag or things you think look pretty fun — Christians can focus on real women. What did God make real women for?
This class meets Tuesdays 6:00-8:00 p.m. in church lobby.
​Each participant is responsible for purchasing their own book, so make sure to order in time if you plan to join any of the studies.
Women's Service Opportunities
Women's Bible Study Teachers – Women interested in starting or teaching a Women's Study must affirm that they have repented of their sin and placed saving faith in Jesus Christ, that they have a call upon their lives from the Spirit of God to a teaching ministry in the church, that they have the spiritual gift of teaching, that they affirm and are in agreement with the five doctrinal statements of Faith Baptist Church, that they are members of Faith Baptist Church, and they must be affirmed into this role by the Lead Pastor and Elders.
Children's Ministry – Numerous roles are available to serve the young parents and children of Faith Baptist Church, especially during Sunday School. 
AWANA (Children's Discipleship Ministry) Club leaders and listeners are needed to serve the children of Faith Baptist Church and the greater Kaiserslautern community on Wednesdays.
Student Ministry – Men and women are needed to serve as small group leaders. 
Hospitality – This ministry works alongside all the ministries of Faith Baptist Church to provide a welcoming atmosphere and guest care.
Missions – Fulfilling the Great Commission is the heart of ministry here at Faith. Join this team to serve in numerous ways in the mission work of FBC.