Reach Kids, Equip Leaders, Change the World
"Do your best to present yourself to God as one approved, a worker who does not need to be ashamed and who correctly handles the word of truth." 2 Timothy 2:15
An acronym from 2 Timothy 2:15 that stands for Approved Workmen Are Not Ashamed, AWANA is a world-wide, non-profit ministry focused on providing Bible-based evangelism and discipleship for children ages 2-18. Since its founding in 1950, the ministry of AWANA has used the gospel to reach kids, equip leaders, and change the world by providing local churches with weekly clubs, programs, and training for children. As the global leader in child and youth discipleship, AWANA gives children the opportunity to know, love, and serve Jesus, regardless of their background.
AWANA meets every Wednesday at 6:00 p.m. during the school year.
AWANA Registration is done online. (See the Registration Form below.)
Our Clubs include Cubbies (three and four-year olds), Sparks (K thru 2nd grade), and Truth & Training (3rd thru 5th grade).
A typical Club Night starts with an Opening Ceremony that includes prayer, pledges, and songs. Next comes Handbook Time that focuses on memorizing Bible verses. Then Game Time fosters teamwork and play. Finally, Large Group Time for an age-appropriate Bible lesson or activity that enforces the theme and/or message of the night. Additionally, there are awards and other special activities such as fun dress-up theme nights, and store nights where clubbers can spend earned AWANA bucks for special prizes.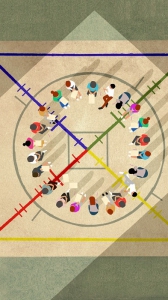 How can I serve in the AWANA ministry?
There are many opportunities to serve in the AWANA ministry at FBC. In addition to a Games Director and Directors for each of the Clubs, there are also secretaries and leaders associated with each club to assist the directors, as well as a nursery and volunteers that help listen to clubbers recite their weekly Bible verses. Directors and leaders are given special training specific to serving in AWANA ministry, and all volunteers adhere to the training guidelines required by the FBC Children's Ministry. Club Directors must be members of Faith Baptist Church.
Additional Requirements:
a) You must have repented of your sin and placed saving faith in Jesus Christ.
b) To ensure the protection of the students and children involved in our ministries, Faith Baptist Church requires all staff members and volunteers working in ministries to or including students and children to complete these four safety steps through MinistrySafe before work or volunteer placements begin: Sexual Abuse Awareness Training, a thorough screening process, written agreement to policies and procedures, and a criminal background check(s).
c) You must have a desire to serve the Lord through leading and serving students and their families.
d) You must be an active member of Faith Baptist Church in good standing, or of a church of like doctrine and practice.
e) You must be thirteen years of age.
f) You must be affirmed into this position by the Children's Ministry Director and the Lead Pastor.
AWANA Fees & Registration
All club fees will be paid in Euro cash on the opening nights of the AWANA year.
Registration fee: €30 per child (includes book)
Uniforms:
Cubbies/Sparks: €14
T&T: €18
Extra Books: €10
Bag:
Cubbies/Sparks: €8
T&T (sling bag): €10
Frequent Flyer Extra Credit Book (Sparks only): €10